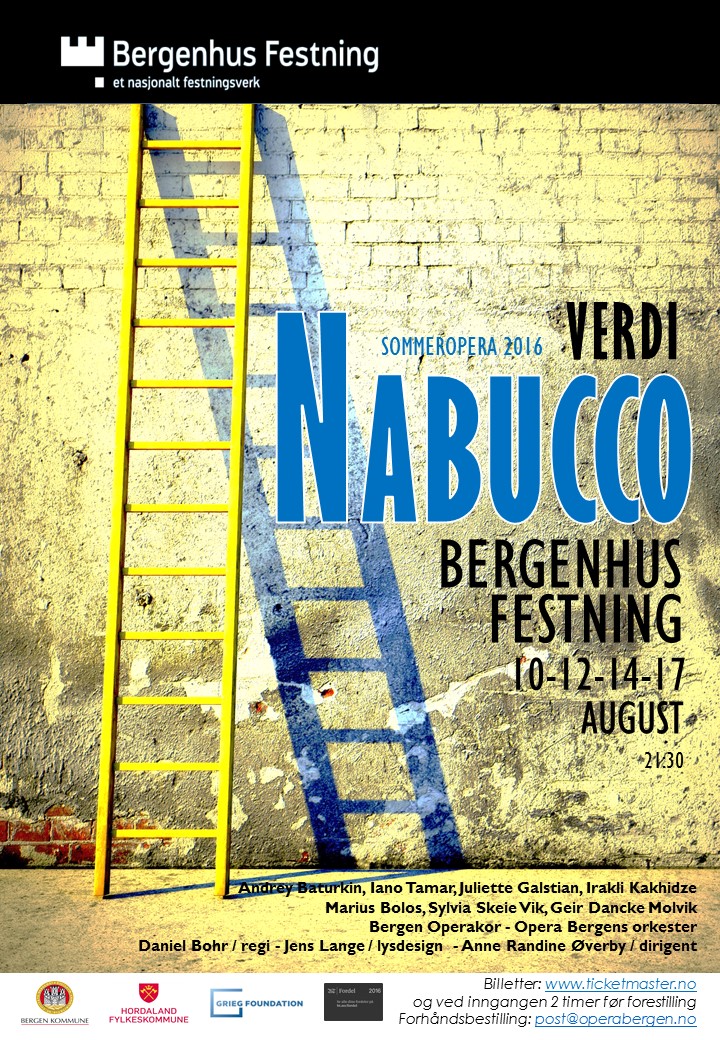 NABUCCO – Open air summer opera at Bergenhus Mediaeval Castle
This summer you can experience one of Verdi's most popular operas, Nabucco. 
Opera Bergen will present this wonderful piece inside the stone walls at the castle in august, with magic lightning under the beautiful old trees which surround the arena. 
Her you can experience fabulous solo voices from our singers and astonishing choir parts – where the slave's chorus is among the most famous.
With Daniel Bohr as director and Jens Lange as lightning designer we can look forward to a magnificent performance under a darkening, Nordic summer sky. Outstanding soloists, a well trained Bergen Opera Choir will together with Opera Bergen Orchestra give the audience this drama, under the baton of Maestra Anne Randine Øverby.
NABUCCO has it all: Beautiful arias and ensembles, great choir parts, drama and strong emotions. The frame of this old story is war, powergame and tyranny, where also tenderness, love and forgiveness play a part.
The two rivalizing sisters – Abigaille and Fenena – ar the protagonists, an Opera Bergen is proud to present to big stars in these roles: Iano Tamar as Abigaille and Juliette Galstian as Fenena.
Iano Tamar is one of the world's soprano stars, performing at most of the greatest opera houses around the world. Her voice is characterized by its fantastic colours and sound, and she is a very strong and dramatic actress.
Juliette Galstian is a mezzo soprano, also with performances at the greatest opera houses and festival, with a sound and temper that goes very well with the role as the good daughter of Nabucco.
Don't miss the opportunity to experience these two great divas – the atmosphere can be electric when the two of them are both fighting for the power of a king!
Opera Bergen
an independent opera company from the western part of Norway
with international orientation and cooperation through more than 30 years
Opera Bergen was founded in 1982 by Anne Randine Øverby and Tone Kvam Thorsen. During the years the aim has been the same; to produce opera performances at an international level, either alone or in cooperation with cultural institutions on regional, national and international level.
Opera Bergen has had the pleasure to work with several conductors during the years, as Rafael Frübeck de Burgos, Aldo Ceccato, Carlo Felice Cillario, Per Dreier, Muhai Tang and Anne Randine Øverby. Stage directors who have been engaged by Opera Bergen has been Ann-Magret Petterson, Bruno Berger-Gorski, Reto Nickler, Rocc and Daniel Bohr a.o.
Opera Bergen has, since its founding, produced more than 90 operas, where quite a number has been first performances ever in Norway or Scandinavia.
In 1987 Opera Bergen gave the Norwegian premier of De Falla's La Vida Breve, Rafael Frübeck de Burgos conducting. Aldo Ceccato was the conductor of the first Norwegian performance of Verdi's Macbeth in 1988, and in 1990 Pizetti's Murder in the Cathedralhad its first performance in Scandinavia, conducted by Carlo Felice Cillario.
The work list of Opera Bergen includes fully staged productions of standard works as La Traviata, Un Ballo in Maschera, Don Carlos, Aïda, and Nabucco (Verdi), Madama Butterfly, Tosca, Turandot, Manon Lescaut, La Bohéme, Le Villi and Suor Angelica (Puccini) and Il Barbiere di Siviglia, La Cenerentola (Rossini) and Cosi fan tutte, The Magic Flute (Mozart). Bizet's Carmen, Wagner's Der Fliegende Holländer, Donizetti's Elisir d'amour are also produced by Opera Bergen, and French operas like Massenet's Manon and Werther, Gounod's Faust, the famous Russian opera Eugen Onegin (Tchaikovsky).
Opera Bergen has also staged several more modern opera works as Korngold's Violanta, Menotti's The Medium, Libby Larsen's Dreaming Blue, Brecht's Die Sieben Todsünden, and Carlisle Floyd's Susannah a.o.
Opera Bergen has also made several international tours: as guests at Cairo Opera House and Asmara in 1992, performing a fully staged version of Gershwin's Porgy and Bess. In 1993 the company went to Ashkelon (Israel) with a fully staged production of Samson and Dalila (Saint-Saëns). On the same occasion Opera Bergen gave a closed performance in Tel Aviv for the prime minister, public officials and cultural authorities.
Opera Bergen produced a European tour in 1998 to Prague and Vienna, where Bergen Opera Choir/Prague Symphony Orchestra performed Mozart's Requiem in Smetana Hall in Prague, and Bergen Opera Choir /Amadeus Orchestra did the same programme in Goldener Saal, Musikverein in Vienna. Both concerts were conducted by Anne Randine Øverby.
Opera Bergen has also been touring in Asia. In 2001 the company was invited to Beijing, performing Brahms Ein Deutches Requiem in Forbidden City Concert Hall, with Beijing Symphony Orchestra, Anne Randine Øverby conducting. The Bergen Opera Choir also participated in the performance of Mahler's 2nd Symphony and consert performances of Mascagni's Cavalleria Rusticana, under Muhai Tang's baton.
In September 2010 Opera Bergen was invited to Mumbai, India – to produce and perform two production for the 9th Celebrity Season for National Center for Performing Arts (NCPA Mumbai); A Lloyd Webber Gala Concert and a fully staged production of Puccini's Tosca.
Opera Bergen has also established and developed the medieval castle in Bergen as an open-air stage for acoustic opera, and contributed to bringing the art to a broad audience, locals and tourists in Bergen.